first general fund poll
for the March 4, 2014 Poetry Fishbowl. You get to choose a $10 poem and a $15 poem to publish. Everyone is eligible to vote in this poll. I'll keep it open until at least Tuesday night. If there's a clear answer then, I'll close it. Otherwise I may leave it open a bit longer.
(
Read and vote!
Collapse
)
This is a followup to the
Current Mood:

busy

thnidu
. It also fills the "traveling" square in
my 1-31-14 card
for the

origfic_bingo
fest.
"Plush Dragons"
Most people think of dragons
as gold or silver, metallic visions
of magic and mystery.
Some think of chromatic dragons,
red and blue and green, black and white.
It is the plush dragons
who go everywhere,
hiding in plain sight,
riding on shoulders.
They are alive without life,
speaking without breath,
able to flit from one body to another.
They are always traveling,
clinging to a self-mobile perch,
peeking out from under someone's hair
at a bardic circle or a joust.
They are familiars, muses,
assistants, associates,
slipping between the cracks
of assumption and myth --
invulnerable and ubiquitous
in ways the great wyrms
could never be.
This poem came out of the March 4, 2014 Poetry Fishbowl. It was inspired and sponsored by
Current Mood:

busy
Current Mood:

busy
The Wind Rises
. She had seen the trailer and thought it had a "gentle, musical" sensibility he'd respond to. I pointed out to her that it was a fairly adult-oriented narrative set during World War II which includes an earthquake, a train wreck and the main character's girlfriend dying of tuberculosis, but countered with the idea that we try
My Neighbour Totoro
out on him instead.
So we did, and...he loved it. He's actually asked to watch it every day since, all the way through. This particularly odd, because it's fairly "realistic" (for a movie involving giant animistic forest-spirits) and has only two songs, neither actually sung by the characters. But yeah, he's into it. (English dub version, obviously.) He's even taken to saying things while watching it, like: "Oh, please don't sob, Satsuki!" and "The sky is blue" or "It's going to rain." All good signs.
On Sunday, meanwhile, steve and I were able to park him overnight with my Mom and go see
300: Rise of an Empire
, which is utterly ridiculous and wonderfully entertaining. I was never a massive fan of the original, which we re-watched recently because A) this was coming out and B) it was down to $6.00 on DVD, but this edition manages to avoid at least some of the traps of its predecessor: the rape/revenge subplot is backstory for one character, not a part of the text, and we get at least two women with agency, one (Artemisia, admiral of the Persian navy) played by the insanely gorgeous and gorgeously insane Eva Green.
History geeks would be right to point out that the actual Artemisia was not only the only one of Xerxes' commanders to argue
against
attacking Greece, but also managed to survive the battle (by ramming her own tiremes after it was obvious where things were going, convincing the Greeks she couldn't possibly be working for the Persians). Here, however, she's the anti-Queen Gorgo, as devoted to the Persians' Evil Empire as Gorgo is to Sparta. She also turns out to be responsible for Xerxes turning himself into a nine-foot gilded giant with creepy sarcophagus-painting eyes in the first place, which is pretty choice--his Dad Darius, dying after the battle of marathon, tells Xerxes that "only the gods can defeat Greece," which Artemisia helpfully translates for him as "...so that means you should make yourself into a god-king, and go conquer that shit."
How? Necromancy and black magic, obviously. Step one: wrap yourself in linens soaked in evil nectars. Step two: wander the desert until you trip across a cave full of evil hermits. Step three: immerse yourself in a glowing pool of handwavium, then exit nine feet tall, bald, and multiply pierced. Hey presto! The hilarious part is that even after all this, Artemisia remains totally unimpressed with her ostensible lord and master, often telling him to chill on his throne like the pussy he is so she can go defend "the power
I
gave you!"
Also great: the soundtrack, by Junkie XL, which includes a demented orchestral remix of Black Sabbath's "War Pigs" run over the closing credits. And Eva wears a dress made out of human hair at one point, with matching gauntlets, which must be seen to be believed. She's not wearing it when she turns surrender negotiations with Athenian leader Themistokles into a rough-sex match, more's the pity, but that's still fairly intense. I particularly love the moment when he gets ferried back immediately after refusing to join her/get her off, and his second-in-command asks him: "Well? What did you learn?" Themistokles just makes a weird little twitch with his mouth and eyebrow, which might mean: "Um...first off, she cray. Also, we fucked."
Okay, I need to get back to doing a few more chores, then sleep. Tomorrow is Surrey Place, plus hopefully some writing. We'll see if Cal cooperates.
This entry was originally posted at http://handful-ofdust.dreamwidth.org/520897.html. Please comment either here or there using OpenID.
First day of March Break proper, achieved. Accurately, I guess it really started over the weekend, but that went pretty well, all told. On Saturday afternoon, my Mom phoned and suggested we take Cal to see Miyazaki's (supposed) final film,
Current Mood:

busy
Current Mood:

busy
Since we're doing a mid-month fishbowl in Polychrome Heroics on March 18, I decided that it would be helpful to post what I have in the way of character sheets. In this series, it's a lot faster and easier for me to write with established characters, because of how complex they can get. Many of these are characters already appearing in poems, published or unpublished. Others are ones I wanted to stat up for reasons of diversity, but haven't featured in a poem yet. All of them are available for prompting.
Skip to
Part 3
,
Part 4
.
(
Read more...
Collapse
)
Current Mood:

busy
my 1-2-14 card
for the

trope_bingo
fest. It has been sponsored by Anthony & Shirley Barrette. It belongs to the project
The Blueshift Troupers
.
(
Read more...
Collapse
)
This poem fills the "soul bonding / soulmates" square in
Current Mood:

busy
It's time to get your paws on The Monkey's Other Paw
Originally published at Scott Edelman. Please leave any comments there.
If you've been wondering when you were going to get a chance to read for yourself the short story I real aloud at the 2012 Worldcon, that time is now!
The Monkey's Other Paw: Revived Classic Stories of Dread and the Dead has begun to ship from NonStop Press, and for a limited time, the shipping cost is on them.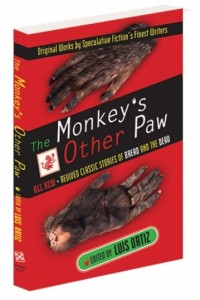 So if you'd like to read my semi-sequel to Saki's "The Open Window," plus other homages from the likes of Don Webb, Barry N. Malzberg, Paul Di Filippo, Damien Broderick, and Steve Rasnic Tem—and save on the postage as well—here's how to get the trade paperback or the hardcover.
Or both!


Nevertheless. I feel very tempted to post another picture. He is totally torn between lying dozy in the sunshine and staring fixedly at the fluttering inaccessible birdies. (I have opened the window, to make his torment all the more.)

In the grocery store, I was delighted to overhear myself think: "Trouble is, that's far too many chicken thighs - oh, but wait! Freezer! I can cook half and freeze the rest! Have my cake and eat it!"

So, in the spirit of new virtue, half my chicken thighs have been bagged and labelled and dated - and as soon as Mac gets off the bloody freezer, I can put them in it...

Tonight's yogi dinner is a chicken biryani. In the recipe I am more-or-less sort of following, it says "Saute the onion/garlic/ginger paste until golden brown." Thing is, I chucked a couple of serrano chillies in there, because hullo, still me; which meant the paste started out a lovely pale green. It is now not so much golden-brown as khaki.
Of course we knew what we were getting into. What Mac would be getting onto. Put a black freezer in a sunny window with birdies beyond, we could expect nothing else. Nor did we.